History of the Sheriff's Office
Located in scenic NE Oklahoma, Mayes County was formed at statehood (1907) from parts of the Cherokee Nation and the Creek Nation in Indian Territory, covering 684 square miles. The county was named in honor of Samuel Houston Mayes, who served as Principal Chief of the Cherokee Nation from 1895 to 1899. The 2010 census gave a population of 41,259. The towns and cities located within Mayes County are Pryor, Chouteau, Salina, Locust Grove, Disney, Adair, Langley and Spavinaw.
The abundance of labor, fresh water, power and a steam plant has attracted industry to The Mid America Industrial Park, which is the largest industrial park in Oklahoma. This park contains 9,000 acres, and at this time has 80 plants and companies; employing over 4,000 people. The park is located between Pryor and Chouteau, on the east side of Highway 69, which is the main route between St Louis, Missouri and Dallas, Texas.
---
The Mayes County Sheriff's Office must enforce the law in a fair and impartial manner, recognizing both the statutory and judicial limitations of Sheriff's authority and the constitutional rights of all persons. It is not the role of the office to legislate, render legal judgments, or punish.
---
The Mayes County Sheriff's Office was established in 1907 when Sheriff Lawrence Dallas (served from 1907 to 1911) was placed into office. During its 110-year history, the Mayes County Sheriff's Office employees strive to provide the county with Professional, Honest and Fair law enforcement, public service and community safety. MCSO is proud of the relationships forged with the communities and we are humbled by the support and encouragement we receive from the citizens of Mayes County.
---
MAYES COUNTY SHERIFFS SINCE STATEHOOD

Lawrence Dallas

1907-1911


George W. Mayes

1911-1914


Joe M. Ross

1915-1919


John L. Birchfield

1919-1923


J.A. Layton

1923-1925


Charles M. Kelley

1925-1931


Don McElroy

1931-33 & 1941-43


W. J. "Bill" Walker

1933-1937


Walter E. Panter

1937-41 & 1947-51


D.L. "Bit" Madison

1943-1947


Warren G. "Kit" Robinson

1951


Ralph Willcut

1951-1953


L.L. "Slim" Weaver

1953-1965


Joe Faircloth

1965-1969


Doyle "Hokie" Foreman

1971-1973


Glen H. "Pete" Weaver

1969-71 & 1973-81


Paul Smith

1981-1985


H.W. "Chief" Jordan

1985-1989


Wiley J. Backwater

1989-1993


Harold A. Berry

1993-2001


Frank Cantey

2001-2013


Sheriff Mike Reed

2013-Present
---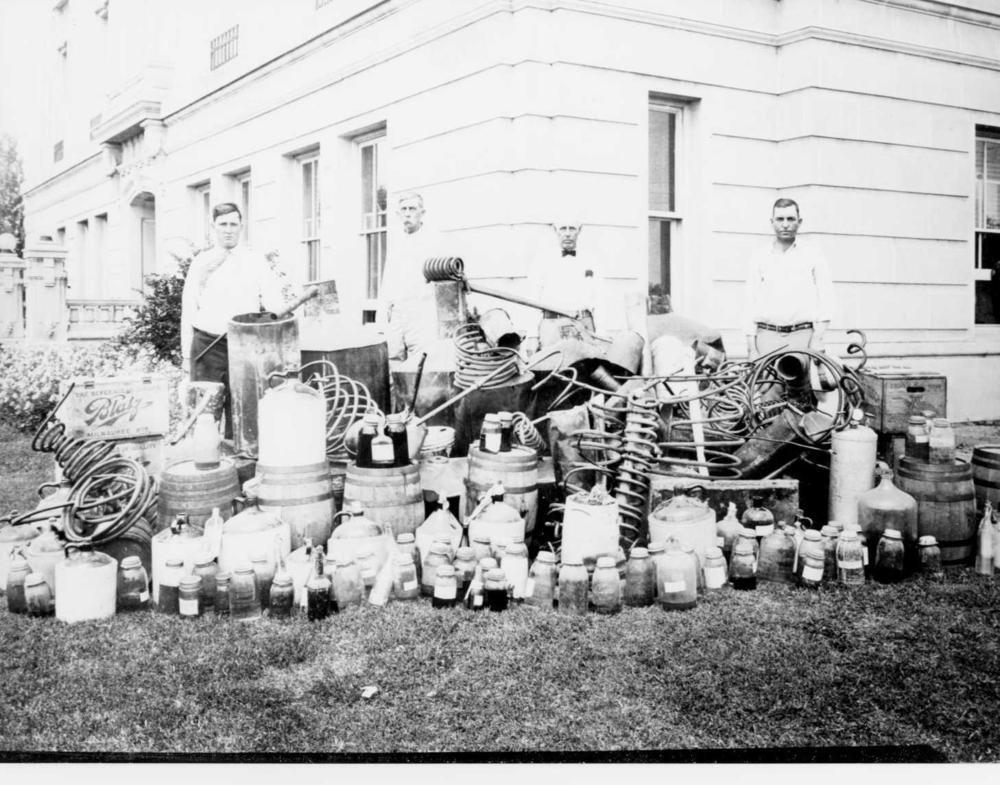 July 1928-The Summer of '28 was election season and Sheriff Charles M. Kelley wanted the voters to know that he had been doing his job of enforcing the state liquor laws. Posing on the lawn of the old Mayes County Courthouse are left to right, Deputy Willis Thompson, Undersheriff T. Wyman Thompson, Sheriff Kelley and Deputy Cleo Callison. Sheriff Kelley served in office from 1925-1931.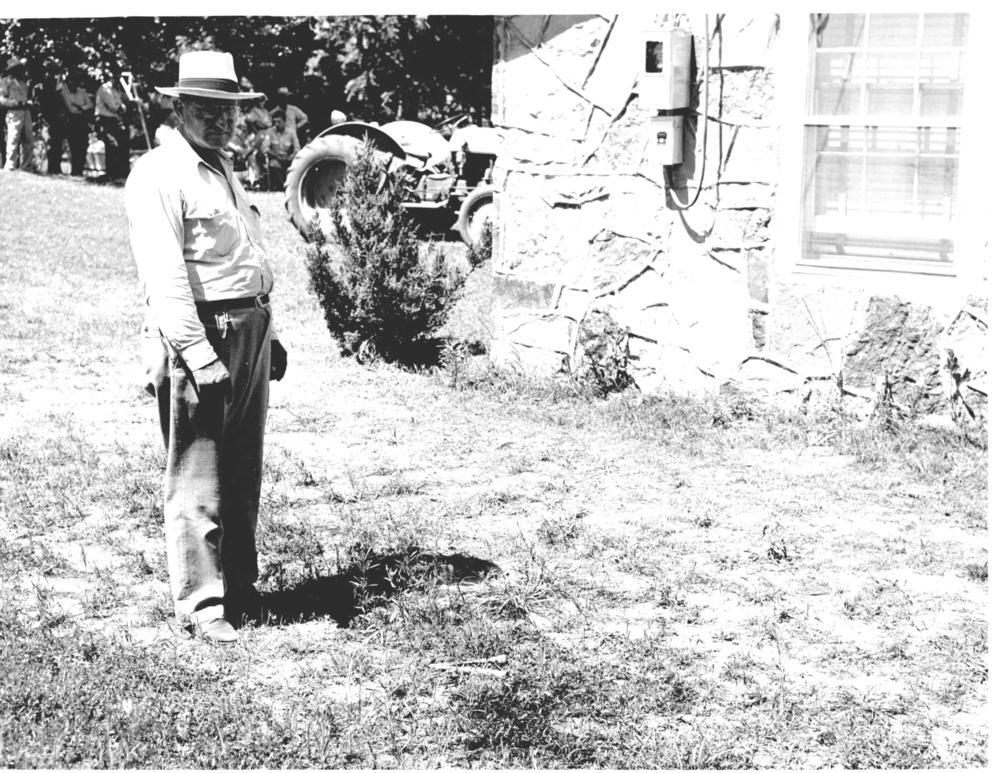 June 1951- Sheriff Ralph Willcutt points to the scene where County Attorney Jack Burris was gunned down at his Locust Grove Home. The shotgun slaying Jack Burris remains unsolved and is one of the most famous murder investigations in the history of the State of Oklahoma. Burris served as the elected County Attorney from 1947 until his death and is buried in Pryor's Fairview Cemetery.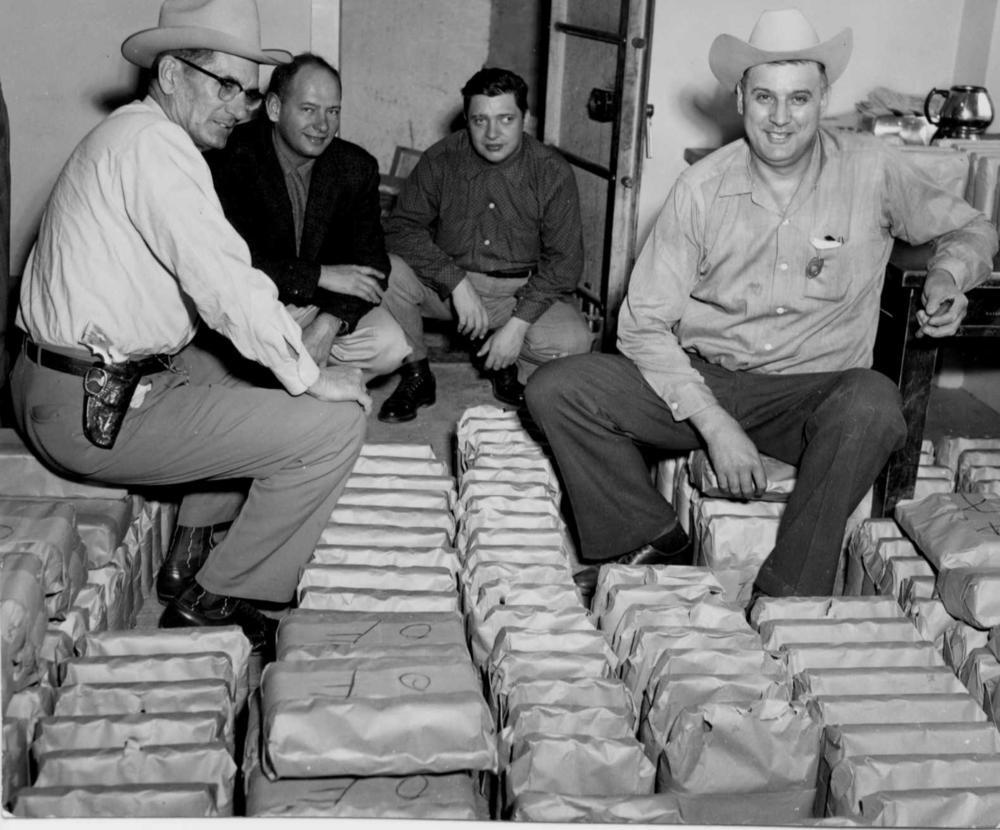 March 1956-County law officers pose with confiscated liquor; from left to right are Deputy Sheriff Fred Grimes, County Judge Carl Longmire, County Attorney Bill Thomas and Sheriff Slim Weaver.

May 1965: Mayes County Sheriff Joe Faircloth and deputies posing with cars showing new Sheriff decal logo; Left to right: Lefty Poe, Harold Page, Leroy Hatfield, Joe Faircloth, Frank Nicodemus and Bob Rainwater. Faircloth was sheriff from 1965-1969.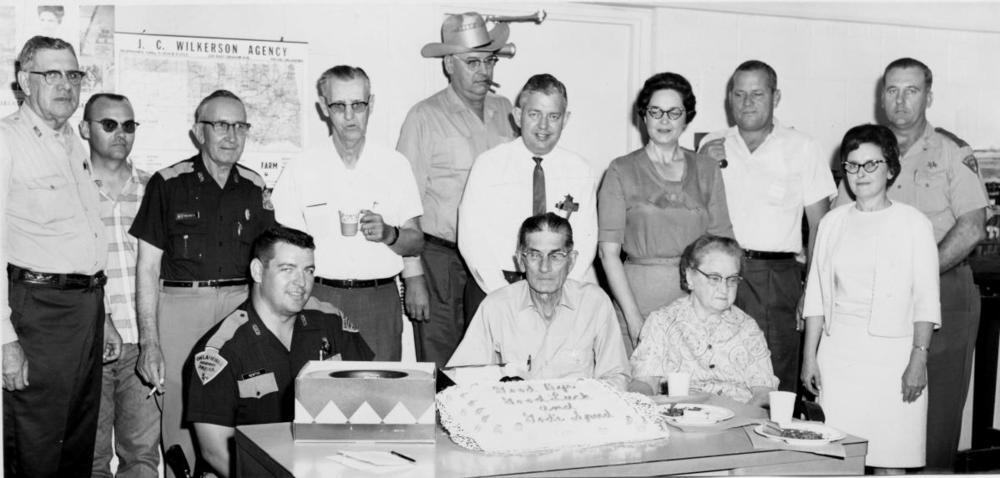 June 1968-Mayes County Undersheriff Fred Grimes retirement party. Back Row from Left to right: T.J.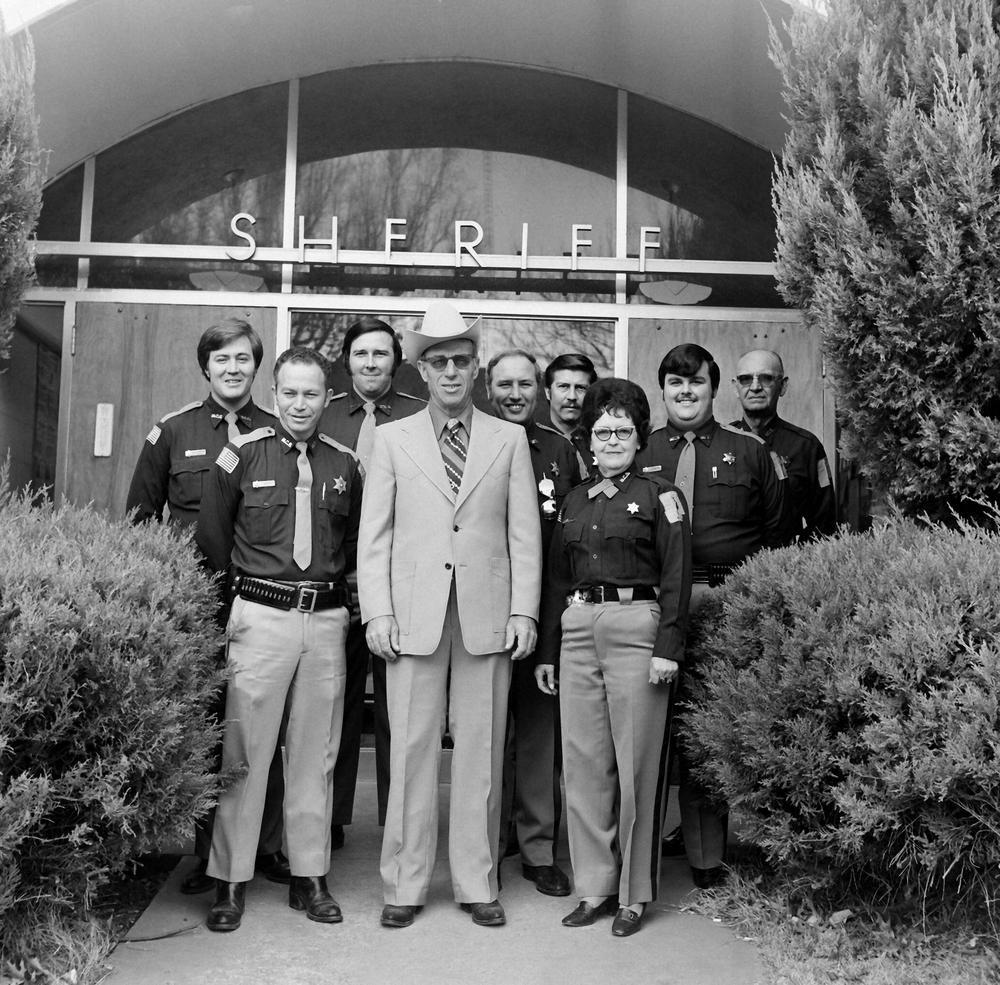 About 1976-The sheriff's office staff included, front-left to right, Charlie Davis, Sheriff Pete Weaver, Maxine Randolph. Back-left to right, Roy LeForce, Junior Pair, Bucky Dunn, Bob Tafoya, Rick Stephens, Al Boyer. Weaver was sheriff from 1969-1971 and 1973-1981.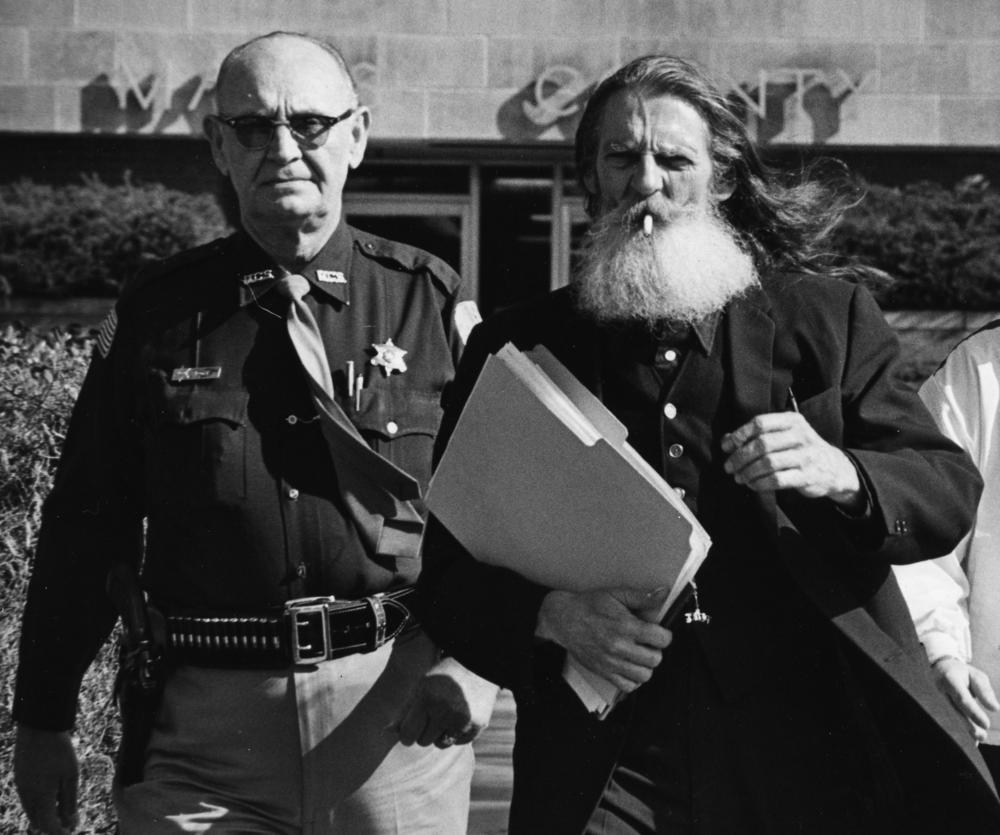 About 1978-Undersheriff Al Boyer escorts "Father John" La'Aquarious back to jail from a court hearing. Father John, one of the most colorful characters in Mayes County Criminal history claimed to be the high priest of a religious cult using marijuana as part of their worship services. He once sued Sheriff Pete Weaver for not providing daily clean bed linens service to him while in the county jail.
More history of the Mayes County Sheriff's Office can be found here.